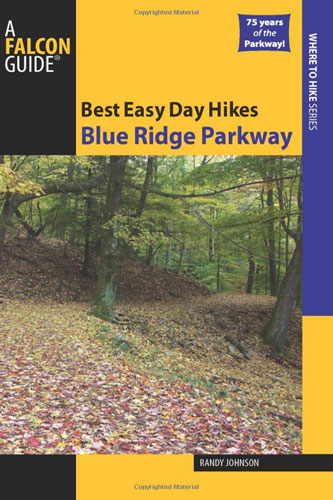 » Author: Randy Johnson
» Pages: 112 pages
» Size: 8.96" x 6.32"
» Format: Paperback
» Features: Trail maps, descriptions, elevations gained/lost, difficulty, and distance.

The spectacular Blue Ridge Parkway is the most heavily visited unit of the National Park system, designed for exploration by both motorists and hikers alike. So stop the car, stretch your legs, and get out on the trail! Best Easy Day Hikes Blue Ridge Parkway offers concise descriptions and detailed maps for thirty-four easy-to-follow trails from the southern end of Shenandoah National Park in Virginia to Great Smoky Mountains National Park in North Carolina. Explore historic homesteads and landmark sites, travel through isolated wilderness enclaves, and trek up to some of the East's highest peaks. With a focus on accessible hikes along well-marked trails, this guidebook is for everyone, including novice hikers and families.
About the Author
A prolific writer and Blue Ridge Parkway enthusiast, Randy Johnson has lived near the Parkway most of his life and divides his time between Banner Elk and Greensboro, NC. For more information, read Randy's biography.
Table of Contents
Overview Map
Map Legend
Ranking the Hikes
Introduction
Using This Guide
Zero Impact
The North-Central Blue Ridge: Mileposts 0.0 (I-64 at Shenandoah NP) to 121.4 (U.S. 220 at Roanoke, Virginia)

The Blue Ridge Plateau: Mileposts 121.4 (U.S. 220 at Roanoke, Virginia) to 276.4 (U.S. 421 at Deep Gap, North Carolina)
The High Country: Mileposts 276.4 (U.S. 421 at Deep Gap) to 384.7 (U.S. 74 at Asheville)
The Southern Appalachians: Mileposts 384.7 (U.S. 74 at Asheville) to 469.1 (U.S. 441 at Great Smoky Mountains NP)
Reader Reviews
Now that I have retired to Florida I don't get to climb anything higher than Mt. Dora. I am looking forward to some of the great hikes described in this guide this summer.